Gifts, groceries, books & more
Wildman's has a large variety of items in our convenience store. You can find books, groceries, snacks, jewelry and fur hats.
A "Must Stop" for the
Inquisitive Traveler
We love to have our customers stop in and have fun trying on the fur hats for sale. Looking for a small gift to take home for someone special, we have Out of Alaska jewelry, children's book set to music, and Wildman clothing to tempt you. Cold drinks available in all sizes, flavors, energy, juice, teas and even H2O so no need to leave thirsty. Candy and chips are a must for those long fishing days, drives or because they taste good. "Chocolate!"
The liquor store cannot be ignored as there is a selection of craft beers from our local Cooper Landing Brewing Company as well as the other brewers in our fair State. Do not forget the domestics and internationals as there is a wide selection from around the country and world. Red & White Wines and the bubbly are featured in our wine racks and cooler. Look for the newest arrivals of seltzers, wine coolers and other specialty drinks. Need a good cigar for that fishing trip or to ward of mosquitos in a haze of fine cigar smoke, look no further.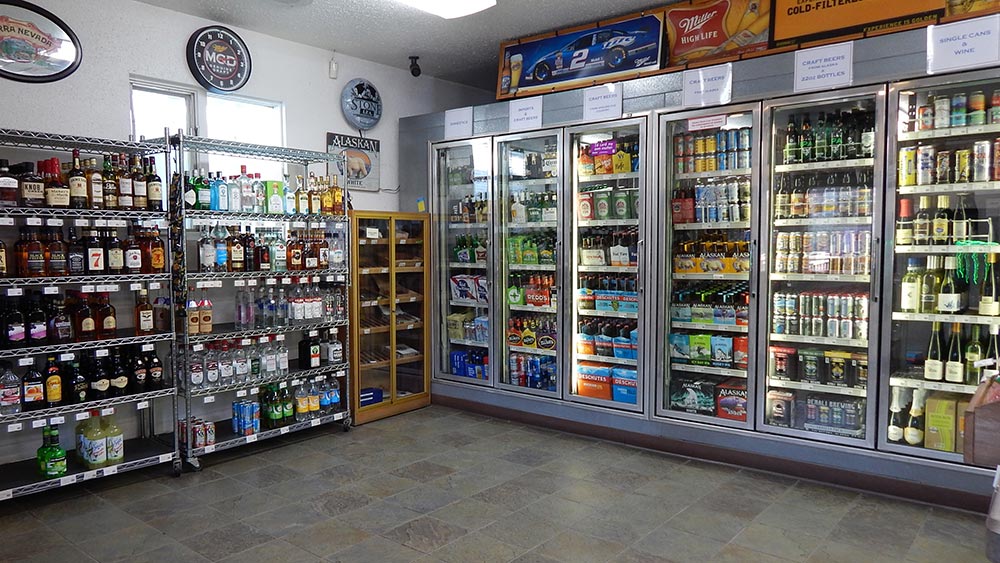 We also have a hardware section for those last-minute items that are needed. A rope, bug spray, nuts, bolts, screws, even a hitch pin or trailer ball that might have been forgotten.
Bear spray and bear bells if you need to ward off those hairy creatures while you are playing.
We also have a small section of grocery items so if you need eggs, bread, soup, cheese or even salt, we stock those items.
A must try is Echo Lake's Jalapeno Cheese spread. Great on a cracker or chip with friends.