Good food & snacks
Wildman's offers many food items to go or enjoy them in our Wild Gallery. Come sit down and enjoy the sun through the windows or watch the snow fall and relax while eating.
Monday-Sunday
6:00 AM - 9:30 PM
No matter what your adventure, or what time of day, Wildman's will make sure you have the food you need to fuel your day.
Breakfast
Start your day on the Wild Side
Breakfast is served from opening until 10:00 a.m. Our breakfast burritos are a must, a meal in a wrap, and can be made wildly spicy if you want to start your day a bit on the wild side. Our coffee both drip and espresso, is served all day and we use coffee roasted by Kaladi Brothers Black Cup in Anchorage. Buy a Wildman's mug and enjoy a bottomless cup of drip coffee for the life of the mug!
Sandwiches, Fries & more
Grab a Great Meal
Our deli sandwiches are made with homemade bread from the House of Bread in Anchorage as well as cookies and other sweet treats. Our deli sandwiches, hamburgers, grilled or spicy chicken sandwiches are made to order, so they can be fully loaded with all the trimmings you want. Our chicken tenders are a must to have, enjoy with a side of French fries or other tasty treats made to order or in the hot case ready to go. Our grill is open until ½ before closing but deli sandwiches can be made up until the last minute. Going on a hike or fishing the Kenai, call ahead and we'll pack the lunchs for you!
I scream, you scream, we all
Scream for Ice Cream
It is well worth the wait for our homemade waffle cones with a big 7 oz scoop of the flavor(s) you pick. Really hungry, our double scoop it's sure to satisfy your craving. Milkshakes creamy and thick made with soft ice cream or hard packed. In the mood for a sundae, we have hot fudge, caramel, whipped cream, nuts, and other toppings, don't forget the sprinkles!
Burritos
Homestyle, Southwest, Spicy, Wildly Spicy
Breakfast Sandwiches
Sausage, Canadian bacon or bacon, egg & cheese on an English Muffin
Bagels
With or without cream cheese
Pancakes
Eggs Benedict
Poached Eggs
Hash Browns
Breakfast Combos
Sausage, bacon, Canadian bacon, reindeer sausage, eggs, toast & hash brown's
Biscuits and Gravy
Locally Baked Pastries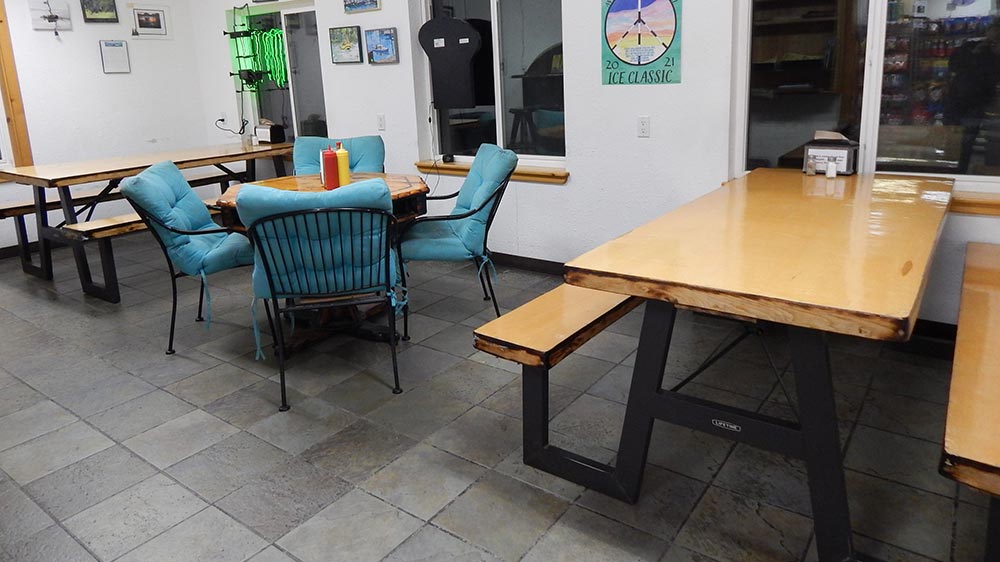 Sandwiches
Turkey, Ham, Pastrami Roast Beef
Hamburger, Grilled Chicken, Spicy Chicken, BLT
Made to your specifications.
With locally baked bread.
Wild Rueben Sandwich
Philly Cheese Steak Sandwich
Wraps
Chicken Bacon Ranch, BLT
Chicken Salad & Egg Salad Sandwiches
Soup of the Day
Chicken Tenders
JoJo Fries, French Fries
Jalapeno Popper, Mozzarella sticks, Onion Rings
Hot dogs and corn dogs
Anytime
Fountain Drinks
Coffee (free refills with Wildman's Mug)
Kaladi Brother Coffee
Wildman's Blend, Ethiopian, Columbian
Espresso
Snacks
Nachos & Cheese
Grocery Items
Featuring: Echo Lake Jalapeno Cheese Spread